Designer Roller Shades from Hunter Douglas have gained immense popularity for their sleek appearance and versatility.
The allure of these shades lies in their clean lines and timeless aesthetic, making them a perfect complement to any interior style. With captivating textures, vibrant prints, and a plethora of colors, this exquisite window treatment boasts an extensive collection of woven fabrics.
Additionally, with Design Studio™ Roller Shades, you'll have access to custom fabrics exclusively designed for Hunter Douglas by talented guest artists featured in our Highlighted Artist Collection.
Add beauty to your space with the versatile elegance of Designer Roller Shades, combining style and functionality for any room in your home.
Free Estimate & Up to $500 Off**
Schedule your no-obligation, free, in-home estimate for Hunter Douglas window coverings.


The Designer Roller Shades can be customized with Powerview® Automation. This smart feature allows you to effortlessly control motorized shades through an app, remote, or smart-home system, adding additional convenience to your living space.
For those seeking harmony between horizontal and vertical window applications, the Designer Roller styles can also be found in the form of Skyline® Gliding Window Panels, presenting an ideal solution for coordinated window designs within the same room.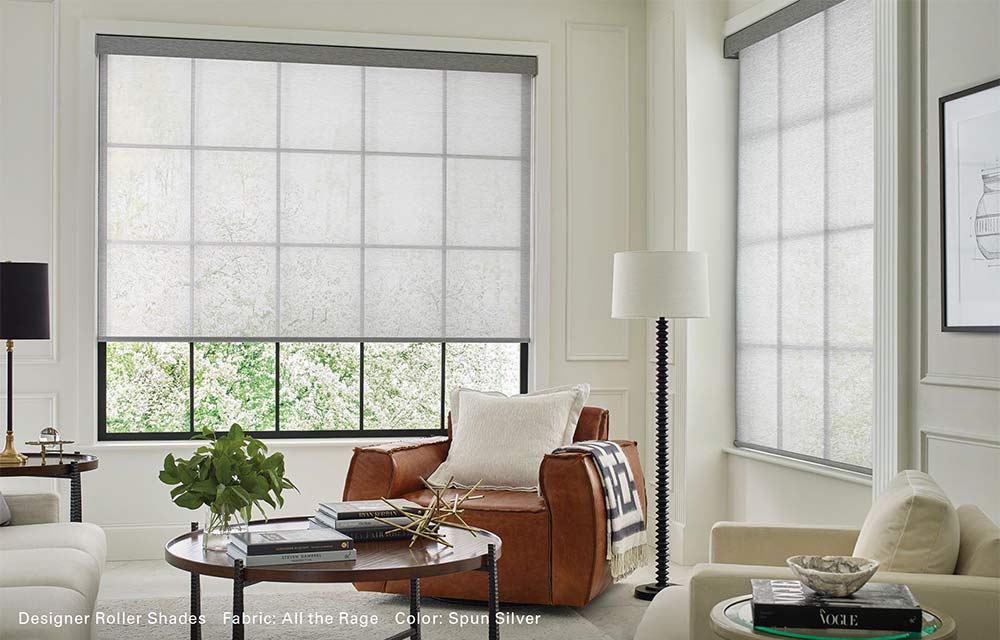 Designer Roller Shades combine beautiful design and versatility. With an extensive array of fabrics and customizable options, these shades offer limitless possibilities to create a truly unique and refined ambiance in your home.
Selecting your new Hunter Douglas custom window treatments couldn't be easier. Either visit our expansive showroom or we'll bring the samples straight to your home. We serve Columbia, Ellicott City, Howard County, Carroll County, Baltimore County, Montgomery County and the surrounding Maryland areas.