PowerView® Automation from Hunter Douglas brings smart, motorized shades to your home, enabling you to control your environment with ease.
Its innovative technology enhances your everyday living by providing effortless control over light, increased privacy, better energy efficiency, enhanced security, and a safer environment for children and pets.
The PowerView® Automation system allows your shades to operate independently. You can control your window coverings with a remote, voice commands with your smart home devices, or following a set schedule. Allow our team to guide you by stopping into our Columbia, Maryland showroom, calling or we'll bring the showroom to you!
Whether you are at home or away, PowerView® Automation is the perfect solution to manage your shades effortlessly.
Free Estimate & Up to $500 Off**
Schedule your no-obligation, free, in-home estimate for Hunter Douglas window coverings.


Control shades in hard-to-reach areas with a simple tap of a button. Even better, you can schedule them to open and close automatically each day, making your life more comfortable and efficient.
PowerView® enhances energy efficiency by allowing you to schedule your shades to lower during harsh summer days, preventing your interior from overheating. In the winter, you can schedule them to prevent heat loss, saving on energy costs.
Additionally, PowerView® Automation adds an extra layer of safety and security to your home. You can create a "lived-in" appearance even when you're away by setting automatic schedules for the shades to raise and lower at specific times. The system also ensures the safety of your loved ones, especially children and pets, as it eliminates dangerous exposed cords, making it a safer option compared to traditional shades.
The PowerView® App gives you convenient control at your fingertips. You can activate pre-set or customized Scenes, adjusting each shade to your preferred positions, and schedule these Scenes to operate automatically throughout the day. Furthermore, you can synchronize the scenes to follow the sunrise or sunset. The app is compatible with both Apple and Android smartphones and tablets. Powerview® also seamlessly integrates with popular whole-home automation systems like Amazon Alexa, Apple HomeKit, and Google Home, allowing voice-controlled operation.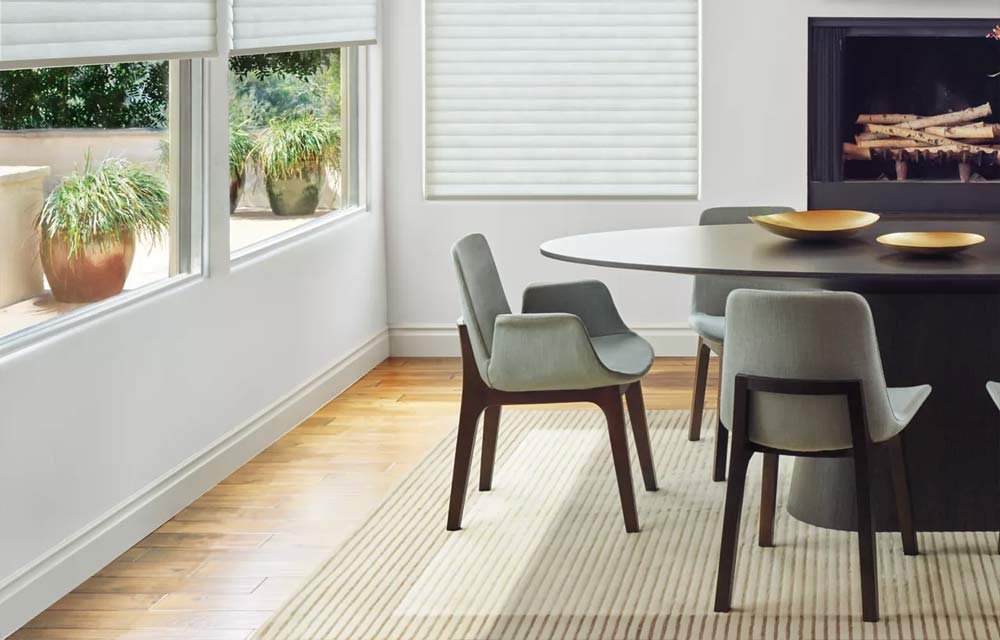 With Hunter Douglas' variety of advanced manual and motorized operating systems, you can expect more from your window treatments—making your living spaces look and function exactly how you need them to.
Selecting your new Hunter Douglas custom window treatments couldn't be easier. Either visit our expansive showroom or we'll bring the samples straight to your home. We serve Columbia, Ellicott City, Howard County, Carroll County, Baltimore County, Montgomery County and the surrounding Maryland areas.