Window Shutters in Columbia, MD
Window shutters add ongoing value and beauty to your favorite rooms while helping you enjoy consistent savings on your heating costs. At The Vertical Connection Carpet One, we proudly offer up an expansive collection of stunning, stylish, and practical Hunter Douglas shutters. Boasting timeless appeal and endless customization possibilities, your shutters are designed to become one with your windows, adding to your home's value as the years pass. Read more to learn about our exciting collection of Hunter Douglas window shutters.
Why Choose Window Shutters?
Window shutters are eternally stylish and can be customized to fit any size, shape, color, or décor. Since they're custom-built for your unique window and tend to stay with your home after it's sold, window shutters are the only type of window treatment that can be financed into your property value. Shutters are also a healthier alternative to window drapes since they don't absorb dust and allergens like curtains tend to do. They're easily wiped clean and since they filter out harmful UV rays, they can even prevent your floors, furniture, or artwork from fading as the years pass.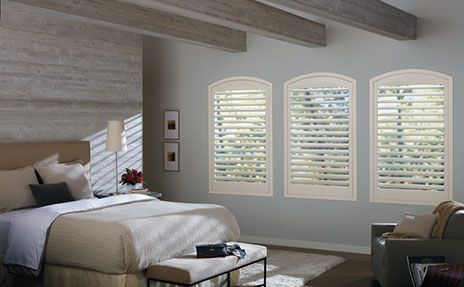 Styles & Designs
Shutters are available in three major families: plantation, solid, and café style. Plantation shutters are the most popular style, as they allow air to flow through an open window while keeping your interiors cool. Plantation shutters are very versatile in size and shape and can even accommodate circular shapes.
Solid shutters are found more in older homes and are generally kept open by day and closed at night. These types of shutters are the best type for privacy. Café-style shutters are most popular in restaurant settings and are used to cover only the bottom half of the window. They allow the most sunlight to enter, yet preserve privacy in spaces like bathrooms.
Your Source for Custom Window Shutters
To learn more about getting creative with customized Hunter Douglas window shutters, please visit us today in Columbia, MD.