Skyline® Gliding Window Panels from Hunter Douglas present a chic and contemporary aesthetic, ideal for urban loft-style living, catering to both large and small windows.
Their design ensures minimal stackback and maximum view-through, making them perfect for creating a sleek backdrop for various window sizes.
The panels boast an extensive selection of roller and screen fabrics, effortlessly complementing Designer Roller and Screen Shades for horizontal and vertical window applications. Additionally, these versatile panels can be used to divide expansive spaces or add a touch of drama to smaller areas.
Skyline® Gliding Window Panels offer a sophisticated and modern window treatment solution for urban dwellers seeking clean lines and contemporary style.
Free Estimate & Up to $500 Off**
Schedule your no-obligation, free, in-home estimate for Hunter Douglas window coverings.


The gliding panels offer smooth and seamless operation with an interlocking bottom weight that prevents tangling and enhances stability. Available in two panel sizes of 11 ½" or 17", they can be customized to fit different window dimensions. Skyline® Gliding Window Panels come in a vast array of colors, patterns, and textures, allowing you to reflect your personal style and create a fashion-forward atmosphere.
The benefits of Skyline® Gliding Window Panels extend beyond their appearance. With their extensive fabric collection boasting over 450 color choices, these panels offer unparalleled flexibility in design. Whether you seek a bold and vibrant look or a subtle and calming ambiance, there's a fabric option to suit your preferences. Furthermore, they feature unique top treatment options, such as a fabric-wrapped cassette and fabric valance, which provide a polished and finished appearance.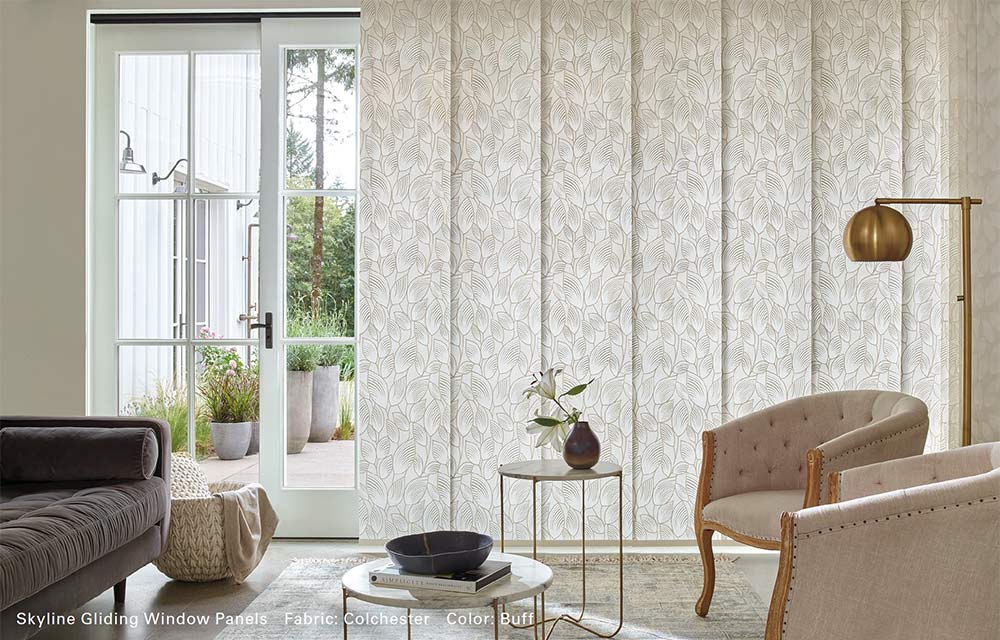 One of the standout features of Skyline® Gliding Window Panels is their suitability as room dividers when ceiling-mounted. They effortlessly transform open spaces into distinct zones, offering privacy and structure while maintaining the overall contemporary feel. These panels not only add aesthetic appeal but also serve a practical purpose by efficiently dividing larger areas.
Transform your windows into statement pieces with Skyline® Gliding Window Panels, showcasing your unique taste and reflecting your personal style in your living spaces.
Selecting your new Hunter Douglas custom window treatments couldn't be easier. Either visit our expansive showroom or we'll bring the samples straight to your home. We serve Columbia, Ellicott City, Howard County, Carroll County, Baltimore County, Montgomery County and the surrounding Maryland areas.