NewStyle® Hybrid Shutters from Hunter Douglas offer a timeless style that seamlessly merges with the durability of contemporary materials.
These shutters offer a micro-smooth finish that brings the elegance of premium shutters within reach for every household. Not only do NewStyle® shutters exude a rich hardwood appearance, but they also come fortified with enhanced strength to withstand the rigors of daily use.
The Finetech® finish adds a touch of sophistication with its low-luster sheen, creating a look reminiscent of finely painted wood. What's more, the craftsmanship behind Truemill® dovetail construction ensures superior quality, securely locking the panels together for added sturdiness.
With the practical combination of authentic wood aesthetics and the robustness of composite materials, NewStyle® Hybrid Shutters present a solution that is both visually captivating and durable.
Free Estimate & Up to $500 Off**
Schedule your no-obligation, free, in-home estimate for Hunter Douglas window coverings.


You can tailor the shutters to suit your preferences with various louver sizes, including 2 ½", 3 ½", or 4 ½". Embracing a unified decor, our Whole House Solution™ facilitates a coordinated look when combined with horizontal and vertical window treatments.
In addition to the standard options, our NewStyle shutters come in an array of specialty shapes, including arches, angles, and circles, to accommodate unique window configurations.
For those seeking added convenience, we offer optional enhancements like SoftClose™ Louvers with Quick Align™, enabling one-touch control for smooth and gentle louver closure.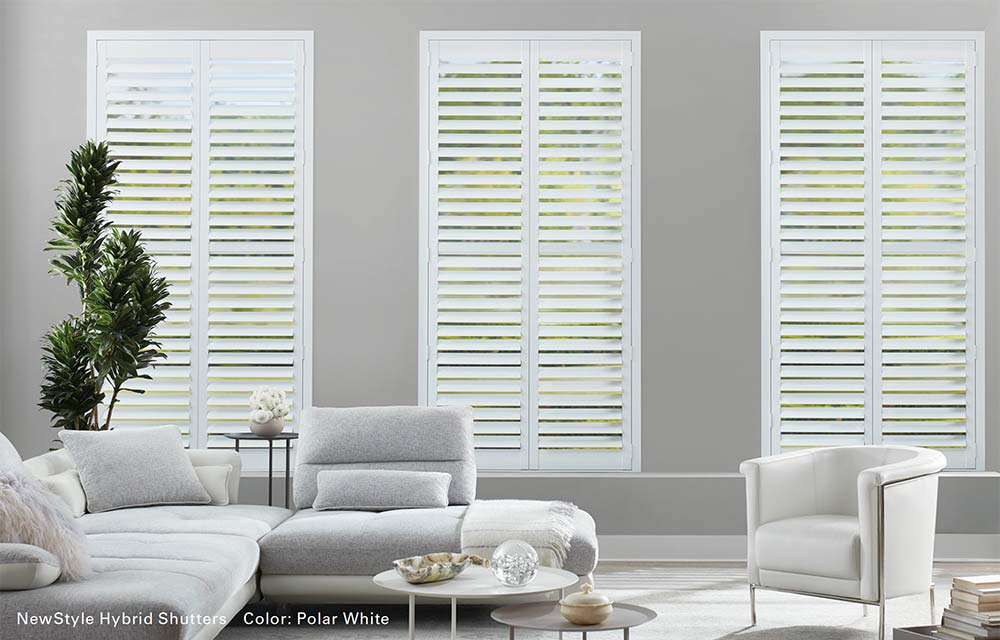 Experience the enduring beauty and functionality of our NewStyle shutters that bring the best of both worlds to your home.
Selecting your new Hunter Douglas custom window treatments couldn't be easier. Either visit our expansive showroom or we'll bring the samples straight to your home. We serve Columbia, Ellicott City, Howard County, Carroll County, Baltimore County, Montgomery County and the surrounding Maryland areas.