The timeless beauty of Heritance® Hardwood Shutters from Hunter Douglas elevate the ambiance of any room.
The Integra™ Finish adds a touch of elegance, creating a high-luster surface that requires minimal maintenance. Choose from a variety of louver sizes, including 2 ½", 3 ½", or 4 ½".
The shutters are available in over 35 colors, and you can even request a custom color to match your interior decor perfectly. Additionally, Heritance shutters offer various specialty shapes, such as sunburst or horizontal louvers, allowing you to create a personalized look for your home.
Crafted from 100% natural hardwood, these shutters boast superior craftsmanship with Truemill® dovetail construction, ensuring lasting strength and durability.
Free Estimate & Up to $500 Off**
Schedule your no-obligation, free, in-home estimate for Hunter Douglas window coverings.


Emphasizing sustainability, the hardwood used for these shutters is sourced from responsibly managed forests. To further support environmental preservation, a portion of every purchase is donated to the Arbor Day® Foundation, contributing to the protection of trees and rainforests.
Heritance® Hardwood Shutters also feature SoftClose™ Louvers with Quick Align™ technology, providing one-touch control for smooth and quiet louver closure. With five preset positions, aligning the louvers becomes quick and hassle-free.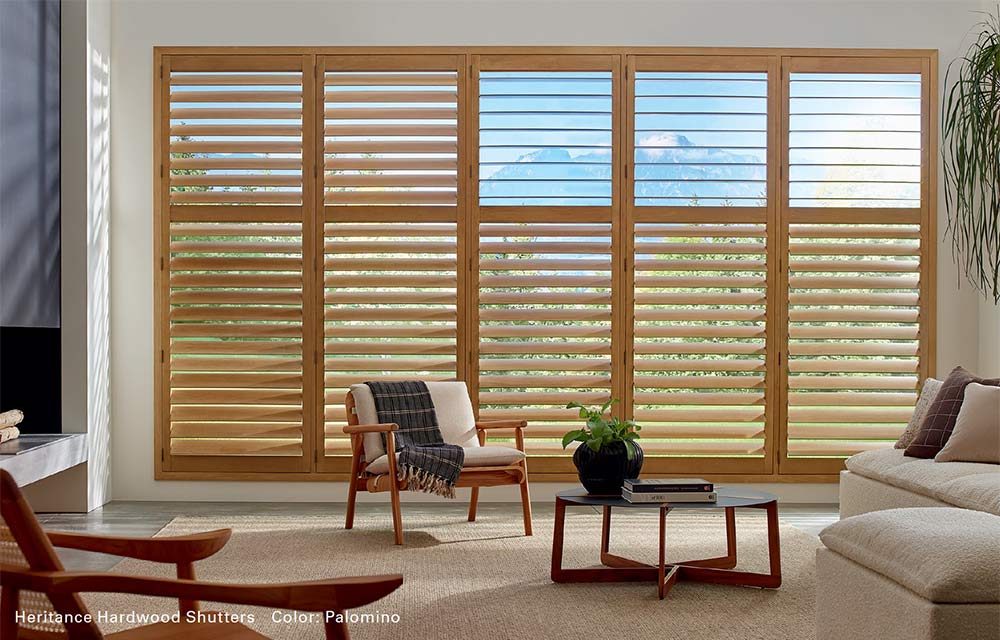 Experience the enduring elegance and superior performance of Heritance® Hardwood Shutters, a wise investment that enhances your home's appeal for years to come.
Selecting your new Hunter Douglas custom window treatments couldn't be easier. Either visit our expansive showroom or we'll bring the samples straight to your home. We serve Columbia, Ellicott City, Howard County, Carroll County, Baltimore County, Montgomery County and the surrounding Maryland areas.