**Due to increased demand, driven by the closure of Next Day Blinds, Hunter Douglas has modified their process to handle all repairs. Note, only Hunter Douglas brand shades and blinds can be repaired. No other brand can be submitted. The entire process may take 5-10 weeks, including shipping time**
Step One: Starting The Process
Please email the following information to HD@VerticalConnection.com:
Name
Address
Phone Number
Email Address
Please describe problem with shade and attach photos of problem if possible
Attach a photo of the label/information on the blind
Here is an example of what a label looks like: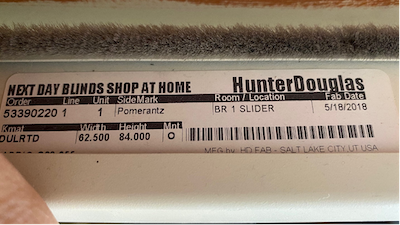 The Cost of the Shipping and Repair is $150
Please submit payment below including your name and enter "HD REPAIR" in the "Invoice Number" field.
Hunter Douglas will ship a box directly to your home to place the blind or blinds in.
Step Two: Boxing Up Your Shade(s)
Below is a video that may be helpful with removal of your shade:
How To Remove Your Shades:
Please call us if you need more assistance. There is a $150 per trip charge for taking down and putting up your shade. If you have someone who can reach the shade, you should be able to take it down easily yourself. If you need us to come out, we'd be happy to schedule a technician to do so.
Print this document and follow the instructions for labelling your blind. See the "Return Shipment Guidelines". Click here to access the document.
Once you are all set, you can bring the box to a FedEx store or setup a pickup via their website/phone number.
What Happens Next?
The entire process may take 5-10 weeks, including shipping time. We will contact you with updates as available.
You are welcome to stop by our Columbia showroom to pick up a complimentary privacy shade at your convenience - no appointment required.
Hunter Douglas will inspect and repair the blind as needed. At times, additional fees may apply OR the shade may be beyond repair. In these instances, you will be notified before any additional steps are taken. They usually make additional adjustments as needed at no charge to keep your window treatments in working condition for the years ahead.
As a courtesy, The Vertical Connection Carpet One will provide you a $150 store credit towards the purchase of new blinds or shades.
With any questions, please feel free to email HD@VerticalConnection.com.