Design Studio™ Side Panels and Drapery from Hunter Douglas offer an exquisite and polished appearance while also ensuring there are no gaps for light to seep through.
With Design Studio™, each fabric is meticulously designed to match flawlessly with the entire array of Hunter Douglas window coverings. To complete your draperies, you can add custom rods in your preferred finish, such as polished brass, brushed nickel, or matte black.
This collection features a carefully curated selection of elegant fabrics, some of which are exclusively crafted by leading textile artists for our esteemed Featured Artist Collection.
Combining drapery and side panels with other Hunter Douglas window treatments adds depth to your space and ensures no light leakage.
Free Estimate & Up to $500 Off**
Schedule your no-obligation, free, in-home estimate for Hunter Douglas window coverings.


For added convenience and practicality, you can opt for light-filtering or room-darkening liners for your drapery. Except for sheers, all fabrics come with a white light-filtering or room-darkening liner, ensuring you can regulate the amount of natural light entering the room with ease.
As for functionality and longevity, the fabrics in this collection are specifically designed to resist stains, making them durable and easy to maintain. Moreover, they provide effective UV protection, safeguarding your furnishings and interiors from the harmful effects of the sun's rays.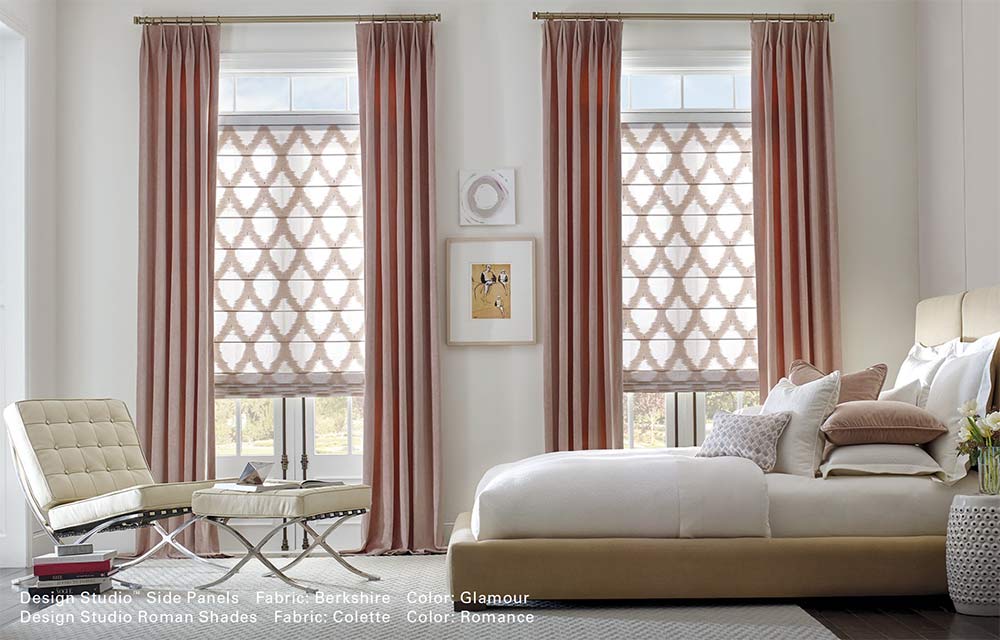 Design Studio™ Side Panels and Drapery from Hunter Douglas offer not only a visually stunning addition to your windows but also a practical and versatile solution to elevate the overall atmosphere of your living spaces. With their coordinated designs, quality fabrics, and thoughtful features, this collection will be a staple in your home for years to come.
Selecting your new Hunter Douglas custom window treatments couldn't be easier. Either visit our expansive showroom or we'll bring the samples straight to your home. We serve Columbia, Ellicott City, Howard County, Carroll County, Baltimore County, Montgomery County and the surrounding Maryland areas.